Also known as Black Hardware Cloth. Vinyl / pvc / epoxy coating adds uniform protection layer for woven or welded wire fabrics. Black Vinyl Coated Wire Mesh is mainly applied for light fencing and screen uses.
BASIC INFORMATION
Basic mesh types: Woven wire / twisted mesh, galvanized mesh, welded wire
Opening shapes: Hexagonal, square, rectangular
Black is the most popular color used in producing of vinyl / polymer coated wire mesh.

Material: Galvanized wire, redrawing galvanized wire
Surface treatment: electro-galvanized, hot-dipped galvanized, then vinyl coated
Features: Sunlight proof, corrosion resistant, long service life. The vinyl/plastic coating has a extreme resistant to cracking, chipping and weathering as the thick coating is tightly bonded to the wire.
Black vinyl coated mesh cloth is used in agriculture, building, fencing, cultivation, machine guarding and barrier, etc.
Custom Service Available
It is supplied in rolls or cut into pieces.
Custom service: Vinyl coating color, wire gauge, mesh opening, roll length and width, pieces sizes, can be custom produced.
Samples of cut strips or pieces provided for most products while Full sized samples upon request for some special kinds.
PRODUCTS MANUFACTURED AND SUPPLIED
Square Hole and Rectangular Hole Mesh Vinyl Coated Hardware Cloth
Fencing mesh ( welded) hardware cloth in mesh and wire gauge:
1/4" x 1/4", BWG23 gauge
3/8"X3/8" BWG19,20,21,22
1/2"X1/2" BWG16,17,18,19,20,21,22,23,24
3/4"X3/4" BWG16,17,18,19,20,21,22
1"X1/2" BWG16,17,18,19
1"X1" BWG14,15,16,17,18,19,20,21
1"X2" BWG14,15,16
2"X2" BWG14,15,16,18
16 gauge wire is commonly used for production of following vinyl coated hardware cloth mesh:
1/2"x1/2", 1/2"x1", 1"x1"

14 gauge wire is commonly used for production of following vinyl coated hardware cloth mesh:
1"x1", 1"x2", 2"x2", 1-1/2"x4", 2"x4"
16 GA Welded Mesh Type Hardware Cloth with Vinyl Coating
Fencing Welded Wire Exported to USA
16 Gauge x 2 mesh
Square hole galvanized mesh with further vinyl coating
Popular in USA market.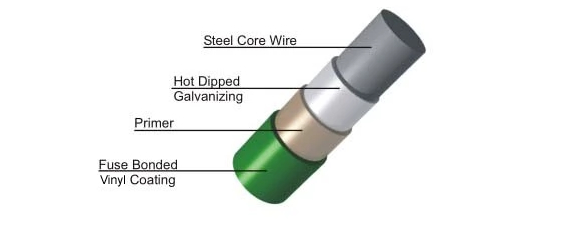 Black Weld Mesh Hardware Cloth for Screen Uses
Mesh: 8 mesh ( 1/8"), hole: square hole
Mesh: 4 mesh (1/4") , hole: square hole

Hexagonal Hole Mesh with Durable Vinyl Coating
Vinyl coated woven wire is supplied in popular black color, made of galvanized steel wire with powder coating.
Mesh shape: Hexagonal
Vinyl and pvc coated hexagonal mesh finds the following applications:
Structural support purposes and heat insulation (for construction of ceilings, boilers)
Pipe wrapping( in petrolium) and isolation purposes
Indicator & protection for underground cables and pipes, windows protection 
Light fencing applications, fishing, poultry farm, sugar industry 
Rubber industry , rockwool blanket industry.
Poultry & animal housing, Crop protection: making of fruit cages, garden protection fence, rabbit control trellis. 
Stucco netting in construction,  reinforcement pavement mesh in road.
Contact us for pricing and availability, minimum order, and delivery time for Black Hardware Cloth.